---
Songs of The Beatles Volume 1
Songs of The Beatles'
Please Please Me

Period

1962 June 06 - 1963 February 11
rev: 2009May23
---
Beatle Basics
At the time the Beatles got their Parlophone/EMI recording contract, the band consisted of:

John Lennon (rhythm guitar),
Paul McCartney (bass guitar),
George Harrison (lead guitar), and
Pete Best (drummer).

The Beatles' manager was Brian Epstein, and it was Brian who brought the Beatles to the attention of George Martin at Parlophone.

Parlophone was a British record label owned by EMI (a large corporation in the UK). George Martin was the head of Parlophone who ultimately decided which acts got a recording contract on the Parlophone label. Martin was also a record producer, among others at Parlophone.
---
Period Overview
1962 June 06: Artist Test/Audition
The Beatles started their recording career at EMI studios on 1962 June 06 when they recorded songs as part of an Artist Test. It's unclear whether this was technically an audition or an Artist Test, the latter suggesting the Beatles had already signed a contract with Parlophone (a record lable owned by EMI). In practical terms, it looks like the Beatles signed the EMI contract, but Parlophone producer George Martin apparently didn't sign until after he heard the Artist Test/audition.

That first session went well except for drummer Pete Best, who Martin said would not be used on studio recordings because Best's drumming didn't meet Martin's standards. Examples of Pete's drumming can be heard on 'Besame Mucho' and 'Love Me Do'. (Session details and where to hear these recordings are listed in the book.)

Though Best was instrumental in the Beatles success to this point, his personality was not a good match with John, Paul, and George. Epstein was directed to replace Pete Best with Ringo Starr, who was then drumming with another popular Liverpool band.
1962 Sep 04: Record songs for UK45-1
The Beatles returned to EMI studios to attempt to record their first single. George Martin had decided to produce the Beatles himself, and had chosen the song they would record for the A-side, 'How Do You Do It'. The Beatles were unhappy with the song because it wasn't their style and because it wasn't written by them. But they defered to their producer and made a very good recording of the song.

As a goodwill gesture, Martin let the Beatles use the remaining studio time to record their original, 'Love Me Do'. This second recording of the song has Ringo playing drums. (Session details and where to hear these recordings are listed in the book.)

Martin gave the Beatles a couple hours of studio time to try to record a better version of 'Love Me Do' and a second original song, 'P.S. I Love You'. This time studio drummer Andy White played drums on both songs while Ringo played tambourine on the first and maracas on the latter. After the recordings were done, both songs were mixed, and Martin decided to honor the Beatles' request that their first single carry Lennon & McCartney originals. (Session details and where to hear these recordings are listed in the book.) The Beatles first single was released in the UK. It entered the charts, a remarkable achievement for a new band, especially with songs they wrote. At that time, most bands recorded songs written by professional songwriters. (Chart details are in the book.) Encouraged by the moderate success of their first release, Martin let the Beatles record another original, 'Please Please Me'. He instantly knew this was a hit song, and gave the band time to record two more originals as potential B-sides for their second single, 'Ask Me Why', and 'Tip Of My Tongue'. (Session details are in the book.) The Beatles' first #1 hit single topped the UK charts six weeks after release. This success mandated they release an LP containing the hit single to profit from its popularity. (Chart details are in the book.) The Beatles' first album, Please Please Me, was mostly completed on 1963 February 11 with the recording of 11 more songs. (Session details and where to hear these recordings are listed in the book.) This marked the end of the Please Please Me Period. The Please Please Me LP entered the charts on 63Mar27, hit #1 on 63May08, and remained in the Top 10 LP chart for 61 straight weeks. Not bad for a debut LP. (Chart details are in the book.)

---
Book Overview
(for a detailed look at the overall book format, see the Series Overview)

The book starts with an overview of the Beatle Periods, showing where Please Please Me fits in their career. It then shows chronological lists of songs recorded and released during this period.

The "Releases" section shows records that were released containing songs recorded during the PPM Period. Details are provided about the UK records. (Details about the US records are included with The Songs section.)

A "Hearing The Music" section gives some orientation and history about the vinyl records and how they were intended to be heard.

The bulk of the book details the 18 songs of the Please Please Me Period:


Songs of The Beatles' Please Please Me Period is a reference work designed much like a technical manual - more than one reader said it looks like a college thesis. It has tables, graphs, and figures, but no pictures. This book was written for serious students of the Beatles.

---
Book Review
(excerpt from review of 1st Edition by Archer, host of Breakfast With The Beatles on KQMT, "The Mountain", 99.5 FM Denver, Colorado.)

A Front Range man has published the first in a series of definitive reference works on the Beatles' recordings, titled Songs Of The Beatles' 'Please Please Me' Period.

Ken Westover's book - unobstructed by photos or illustrations - meticulously collects previously scattered information on 17 of the Beatles' songs from their earliest EMI recording sessions, including the 14 cuts on "Please Please Me," plus singles and unreleased recordings from the same era. It's published by Cliff Canyon of Boulder.

The ultimate research work for Beatleologists, the book includes studio production details, histories behind each recording, copious US/UK commercial release details and insight into the musical instruments and techniques applied to each song.

Easy-to-read tables and charts also track each song's performances on radio and TV and show chart positions. A "Where To Hear It" table for each song tracks dozens of subsequent releases, authorized or not, with keys to different variations of the song.

An "Origins" section for each song explains the reasons behind the Beatles chosing to record it, revealing such facts as why the Beatles covered show tunes like "A Taste Of Honey."

Westover tells 99.5 The Mountain that he is currently nearing completion of the second book in the series.

The entire review is near the bottom of web page http://archer2000.tripod.com/beatles/beatlesnews08.html. (This review is copied at http://beatles.ncf.ca/archived_news_p5.html.)

---
Table of Contents
Songs of The Beatles Please Please Me Period table of contents
Contents
Page
Preface
Book Format
Introduction
Beatle Records
Beatle Periods
Period Overview
9
10
13
13
14
15
Releases
Release 1, 45-1: 'Love Me Do'/'P.S. I Love You' (62Oct05)
Release 2, 45-2: 'Please Please Me'/'Ask Me Why' (63Jan11)
Release 3, LP-1: Please Please Me (63Mar22)
Please Please Me songs in the US
Please Please Me Fan-outs
Please Please Me Period related releases
Hearing the Music: Album Analysis and Song Details
Listening to the Album
Speaker Placement - The Magic Triangle
Tempos & Times Primer
Playing The CD
19
21
22
24
26
27
33
37
38
39
40
42
The Songs
Using This Section
Single (UK-1)
Love Me Do
P.S. I Love You
Single (UK-2)
Please Please Me
Ask Me Why
Please Please Me (LP-1)
I Saw Her Standing There
Misery
Anna (Go To Him)
Chains
Boys
Ask Me Why
Please Please Me
Love Me Do
P.S. I Love You
Baby It's You
Do You Want To Know A Secret
A Taste Of Honey
There's A Place
Twist And Shout
Unreleased Songs
Besame Mucho
How Do You Do It
Tip Of My Tongue
Hold Me Tight
45
46

51
67

73
83

89
99
107
113
119
(83)
(73)
(51)
(67)
129
135
143
151
159

177
181
185
187
Appendix
Glossary
References
Index
191
209
211
213
---
Front Cover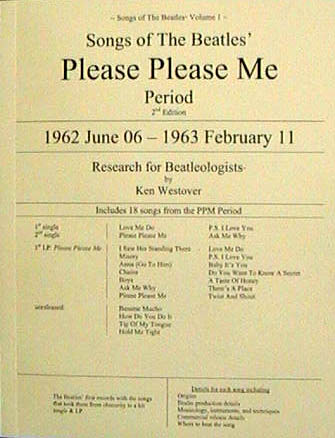 Book Specifications
| Pages | Size | Binding | Price & Availability | Notes |
| --- | --- | --- | --- | --- |
| about 224 | 8.5" x 11" | Perfect (glue) | see current price list | 2nd Edition |
---
Copyright ©2006-09 by Ken Westover at Cliff Canyon Publishing Co. All rights reserved.
This material may not be distributed without the written permission of the author.
E-mail questions or comments to
cliffcan@indra.com
.
0905232013